HOMETOWN (show 2) — TRT: 21.14
Love it, leave it, find it, make it anew.
---
TUDOR VILLAGE: A ONE SHOT DEAL; (2012); Rhayne Vermette; 16mm; TRT: 5:15
In pursuit of an eclipse, the citizens of Winnipeg flee the city. Meanwhile, stranded in Tudor Village, the caretaker does his best to interrupt their trajectory & entice everyone to return.

Read more...

Did you use found footage for this film?

This film is a collection of animation processes (both done with paper animations and a model) and b&w 16mm footage which I shot. Some of the audio comes from a found film

How did this film come about?

I was studying architecture and became interested in the surreal cinematic potential within insipid dwellings. I had been living in Tudor Village (for many many years) during my studies and the ideas of this film emerged as I was preparing to make my getaway from my home – a process which took several months of me agonizingly waiting for my lease to run up.  Though I loathed this place which I called home, the apartment complex had provided me with multiple ideas and abstractions in terms of its geography/physical stature in regards to concepts of remembering and forgetting.

Why did you make this film?

At the time when I was leaving this apartment, I was also in the process of leaving my architectural studies (Taking an indefinite leave to make film) – this film was the initial idea for my architectural masters thesis, t hough took it out of the academic realm thanks to some funds provided by the Winnipeg Film Group.

I essentially spent about a year in my studio revisiting photographs and a model I built, each day re-animating and re-photographing collages, and set-ups of models and paper. These were slightly aimless shoots, where I was simply indulging my eye with varying light conditions and their visual consequences.  In the end, when I revised all the footage, it was like an epiphany – suddenly this latent preoccupation with solar flares and such emerged as the perfect hinge for the film – an eclipse.
FONCTION PANORAMA LGKU990; (2010); Caroline Bernard; Digi; TRT: 5.48
The timeline of life and feelings trapped in time and space.

Read more...

A kind of timeline, the timeline of life, of feelings, feelings trapped in time and space, and it's also a metaphor of tired feeling in a love relationship.

A loving duet between the cameraman, and the photographed one (the filmmaker and her spouse). But of course, it's fictional, we are just in symbolical representations. The images filmed in their successivity are laid out flat in the form of a ribbon scrolling past. The past exits to the left, the future comes in from the right. The scrolling produces duration, and despite the fixity of the images, time is spatialized and metered.
MAKE ME A DOORWAY; (2012); Jesse Russell Brooks & Alexzenia Davis; TRT: 3.36
Three poems and their attitude: Make Me, My Silhouette, and A Lady's Psyche written by Alexzenia Davis.

Read more...

Can you summarize briefly what "Make Me A Doorway" is about?

Three visually distinctive women consider lost love during a rush of mixed media footage, from Super-8 film shot in the early 1990s New York City to Super high definition video in present day Los Angeles. Never talking on camera, these women allow the words of poet Alexzenia Davis to speak on their heart's behalf.

How did you and Alexzenia Davis collaborate to make it?

"Make Me A Doorway" is a compilation of three poems. "Make me", "My Silhoutte" and "A Lady's Psyche" all written by Alexzenia Davis. She wrote the poems based on a series of conversations that we had regarding personality and, most importantly, identity. I mentioned to Alexzenia very early on that I wanted to make a film regarding our "salon" topic and she agreed. Over time we expanded our conversations to include personal examinations of past relationships and the mementos that are left with us/ such as photos and video of past friends, family, lovers. Alexzenia's side of the exchange then took poetic form and I used those expressions to make the piece.

What was your technical process with this film?

Videographer Len Mazzone shot the first few days of the film with only natural sun light. When I began shooting with the actresses I followed suit. The film ultimately was shot on 3 different cameras both film and video. 

Where did you shoot this film and who are the actors?

The film was shot between 1990 and 2012 in Los Angeles, California and Williamsburg, New York.  The cast is made up of 3 women who each represent a place in time: Alexzenia Davis,  Liala Petrone and Erika Ewing.

Viewers have said your work is cryptic. How would you explain this film to someone who was just introduced to your work? 

I think you can comprehend the film if you are open and honest about understanding yourself and others. In this project you'll get a chance to watch and hear Alexzenia Davis decode mis-remembrances and then unpacks some unusual stereotypes. She takes all of us on a journey that begins with an old film clip and ends at a doorway that leads us back to ourselves.  
gyre-ation; (2012); Beth Portnoy; Digi; TRT: 6.48
Gyre-ation is a visual exploration of resistance to and acceptance of the forces outside of ourselves.

Read more...

"Gyre" is a circular or spiral form found in nature: rotating ocean currents; wind curl; concentric circles formed by leaves or flower petals. Gyre-ation is a visual exploration of resistance to and acceptance of the forces outside of ourselves. A woman whirls through a vortex of tension between natural and psychological patterns.

gyre-ation as a "dance on camera work" seems to have a connection between the mind and the body, that not all "dance on camera" works have.

Is that how you see it?

gyre-ation is a dance for camera work. I was a choreographer and dancer for many years and primarily make dance films now. Amy Larimer (my collaborator/friend) and I attended a lecture called "Forgetting Fear," which discussed the patterns of fear-based memories and the possible ways to erase them. The theories and visuals presented were really inspiring and we wanted to incorporate this into our ideas. We mixed real-time footage of Amy's original choreography with stop motion and pixelation. It was important to us that the story have an emotional and personal context. The movement and animation were used as a means to express the feeling of being stuck in and controlled by psychological patterns.
---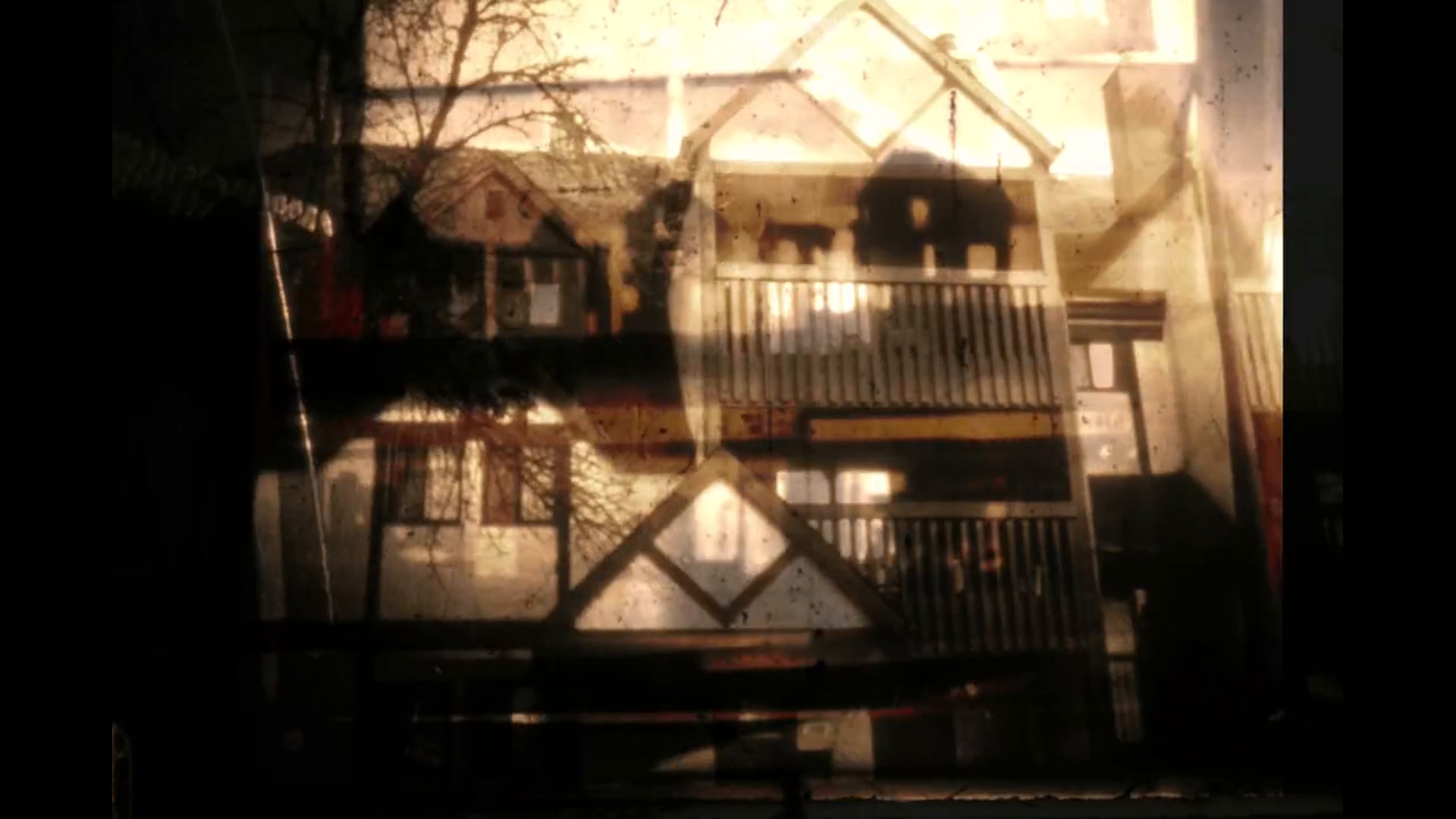 ---
Thank you for supporting the filmmakers who are presented in this show!