TWILIGHT MINDSET (show 12) – TRT: 24.50
Victory or Defeat
---
EVEN GRAY FEELS BLUE; Negin Sharifzadeh; TRT: 8.18
Individual memory: Collective memory - not separated, rather there is an interaction of the two. The echoes of the individual move into collective realities. Sorrow becomes social malaise.

Read more...

Tell us about "Shabaneh," the poem you used by Ahmad Shamlou.

Ahmad Shamlou was one of the most important contemporary Iranian poets. Shabaneh is the name of several of his poems that has been included in his different poetry books such as Abraham in Fire. The poem which I have brought to the visual language of animation is also from the same book.

Shabaneh translates as at night, or during the night. These poems, then, though found in different books, form a group of sorts, playing with this metaphor of night. Of both longing and the wait for hope, light, the rising of the sun and morning. He depicts this longing for a new day, a better day to come in both sociopolitical and personal contexts. He also opens our eyes to the beauty of night itself, as one of his poems suggests his wait for true love and how pleasant the wait is. It talks about peoples' resistance in times of upheaval, wars and desperation. In Abraham in Fire, Shamlou talks about a friend metaphorically who was executed in the aftermath of a political struggle, in relation to the struggles of the Biblical Abraham.

You have said "The echoes of the individual move into collective realities, Sorrow becomes social malaise."- can you say more about this as it connects the personal to the collective – meaning that "art could transform the world?"

I was referring to memory and how it functions. The individual memory is not necessarily separate from the collective memory. It is in the interaction of the two that each finds its own meaning. In the case of a social event you have your own personal memory versus the memory experienced by the mass of people. Yet the collective memory has no meaning without the constituent molecules made of the individual. In times of extreme crisis, these molecules somehow come together, and form into something larger and coherent. These are times of change. But Shamlou also dealt with those other times, when the molecules are scattered and find nothing to attach to.

What is the place of art and/or filmmaking in the world?

This is a very general question. The way I see it, art generates culture, and culture brings forth new social behaviors, diverse perspectives and change, hopefully for better! The sharing of different perspectives is itself a form of change, since it changes the way the viewer sees the world.
Film is a way of storytelling. Since human's existence on this planet, storytelling has been one of the very first and most powerful mediums since our hunting and gathering days, for educating our kids, building cultural values, political assembly, you name it! I think we can find the roots of language itself in our urge to tell stories.

What as your creative process with this film? How do you approach translating emotions into their aesthetic essences?

I always create a mood with my visual language, which lends itself to a certain feeling. As the story goes by, these moving images become like a chain of ambiences in which the audience is immersed, and their subconscious engaged. I feel not only my audience grasps the feeling of the moment in the film, but also they tap into their own individual memories, so it creates an emotional resonance within them. So parallel to my story, the story in the film, they are also experiencing their own stories.

My main technique is stop-motion animation, so I am creating 12 compositions a second then editing all these images together in the computer. This extended process is intimately linked, for me, to the impact of the films. My emotions during the creation of the film has as much impact on the final work as the emotions triggered by the story that is being told.

On Even Gray Feels Blue, I had the wonderful experience of collaborating with the amazing musician and composer, Negar Bouban, whose music serves as the spine for the film. We worked through Skype, as she was in Tehran most of the time I was making the film. She had come up with the composition of the song based on the lyrics of the poem, and I used the same lyrics to create the visual language. So my animation was made very much in dialogue with her music, rather than the music serving as a score to the animation. As if our mediums of expressions were communicating through the lyrics of the poem we had in common!
DISPOSSESSED; (2013) Julia Jin; B/W and color 16mm; sound from HDV Vixia camcorder; 76mm and 26mm lens - TRT: 7.46
A journey reconciling the notions of the home and its paraphernalia as a private space through close textures and a subtle orchestra of sounds.

Read more...

What was your creative process with this film?

I didn't have too much of a plan when I started the actual process of making the film. I just played a lot with the Bolex before figuring that I very much wanted to play with the 76mm lens and colored 16mm — neither of which I had any experience with until this project. As I was filming I noticed that I was only filming very particular items, and they were paraphernalia from the times I went to China. From there it was just a hop, skip and a jump away from deciding that I wanted to use "home" as my main prompt.
After developing a great deal of test footage, I had the chance to step back and try to interpret my own past intentions and curate something from that. It was a constant process of questioning what the hell I was trying to do two weeks ago and picking out what spoke to me "now." It's something that still hasn't changed. It's been more than 6 months since I last watched this piece, and right now I'm trying to figure that out that all over again.

Was the shooting all "staged" or did you shoot and then compose it? Where was it shot?

Almost everything was shot in my apartment that I was living in at the time in Binghamton, New York, with a few shots that were taken in my family's home back here in New York City. However, the sound was all from past family vacation footage when we went/returned to China.
Most of my shots were "staged," but I can only say that after repeatedly experimenting with several, several test rolls. It was the first time I ever used a 76mm lens so I was physically struggling to prop it up while trying to beam enough light into the camera. Then, I curated the footage that had the most potential and re-shot them. Some of the supposed test footage did make it to the final cut — they are the shots that have been hand processed with all the scratches.
For the color footage, those were all more controlled, one-shot affairs since I've already had experience with 26mm lens, and was also much lighter/easier to wield.

Tell us about the shift from B&W to color.

Throughout the entire film, I tried to play with contrast to accent certain characteristics of the sound or image. Some sequences have lively dialogues between sound and image, but some have more muted soundscapes with animated images. Some images are underexposed, and then are suddenly juxtaposed with images that are overexposed. Sometimes there's a sequence with quick short shots, and then it's followed by a shot that's long and uninterrupted.
Similarly, the jump from B&W to color is a macro manifestation of all these contrasts that's been happening throughout the film. The sound is liveliest right before the change, but it's paired up with an already familiar texture. (I tried to construct it as very familiar, because right before that shot, a new, silky texture is introduced. After this novel image, I go back to the old image in order to mute the visuals and highlight the sound instead.) Following that, there is a brief interlude of low key sound and image, and then the flood of color and sound. So, there are a few points of contrast before and after the transition to color. The playful sounds of people and outdoor activity, and then the sounds of rain and thunder. The familiar muted textures, and then color — and with that, the ability to discern the objects.

While the first half is more texturally rich, with different exposures, film speeds, camera movements, abstractions, active sounds etc, the latter half is almost entirely only about color and seeing the objects. In a way, the latter half is like the falling action in a narrative. There is the initial shock of seeing color, and then the quick habituation of seeing a new space that is not really new (a professor once declared, upon seeing the image of the door, that "the door is really door-y").

Why make this film?

The inception of this film was largely a product of my own perception of "school life." When I declared my cinema major, I promised myself that I must make a Senior Thesis or Else, and was determined that this project would serve as a sort of finality to my college experience. It had to be the ultimate culmination of everything that I've learned and everything that I've become during this time period. Despite all the dressing and external narrative and hype I was building up for myself, I wound up approaching this project from a more simple space — my room. It wasn't even the first time I filmed this setting. I have filmed my home space many times in the past, and in retrospect, almost exclusively that.

At the time, I wanted to approach the idea of "home," and what it means to have all these different geographical spaces conglomerate together into…something. It was the first time I've ever consciously exercised with this idea, and named the project "dispossessed" as a way to push myself away from these familiar items and transform them into something new. I was looking at these things that were extremely consistent in my life with literally a new lens and a new type of film stock. It was also the first time I crafted a soundscape as well, from family vacation footage when we were in China. That was especially difficult because I never really used private family footage before, and had to get over the initial horrors of hearing my family's voices in a public forum.

So, while the setting of the film has been used over and over again, this project is a bit different in that I tried harder to thrust my personal life at the camera. To me, the past films I made were too much like exercises. While the idea of experimental film itself is very adventurous, especially to a young undergrad with no experience in cinema, the structural films I made still felt too safe. They were too de-contextualized — too transformed from the original source — and there is something comforting when familiar images become too warped. When it reaches that point, it's as if there wasn't ever a dispossession to begin with. I wanted "dispossessed" to have a distance — to be novel and playful with its structure — but to also have very recognizable and plain objects as a reminder of its origins.
ON THE ROAD (be fekret hastam); Naz Shahrokh; digi, TRT: 6:40
The work is a conversation with Jack Kerouac and his novel On the Road; with the energy of the Beat Generation and the philosophy inherent with that period of Zen Buddhism, of living in the now, while walking through the journey of life. Its narrative describes a theory in metaphysics of twin souls.

Read more...

How did this film come about? and what is it about?

This work evolved from another project—a land art project specific to this location and a series of photographs which are directly linked to Kerouac and his novel On the Road (more specifically in conjunction to the scroll in which Kerouac typed the novel).

The day of the installation, I knew that I wanted to photograph an individual walking through the field dressed in white, thus this aspect was pre-determined. While in the the environment, I was struck by its sheer beauty and the flow of the movement of the figure in the landscape. Thus I began filming as well as documenting through photography.

The male character was by sheer coincidence—this gentleman was walking past us, and he struck me as a potential character in this series of photographs, I asked to document him in the environment as well. Afterwards, I reviewed the footage, and its vision and narrative evolved.

There were many revisions of this work, but luckily I have a very patient and talented editor Ayesh Ganem who worked with me from start to finish.

Please tell us how do you see the Beats and Jack Kerouac and his novel "On the Road" whose narrative describes self-discovery.

I came to know the Beats during my college years. I took a course in Existentialism and at that time was introduced to the work of Ginsberg and Kerouac. I believe this generation of aesthetic souls to be instrumental—the Beats for me carry a sense of freedom, and they followed their "truth", albeit theirs was built on decadence but also of self-discovery. The latter is what I am focused on.

The scroll for "On the Road" by Kerouac is present symbolically throughout several bodies of work that I produced in 2013—I tend to appropriate sometimes without even knowing—but in this body of work, I purposefully transpose a form reminiscent of his scroll, which to me represents a longing for being able to exist within my studio practice void of interruptions. I think when one is focused in this way; the tapping into oneself is easier.

Why did you choose to film these shots on this particular road?

This location is quite special to me. It is where my daughter Alexandria took riding lessons. It's one of the few locations in Abu Dhabi where you can find these stunning orchards, void of people, and where you can find a visual repose from daily life and noise.

What is the twin souls about?

Twin souls is a theory in metaphysics of the perfect union—a yin/yang sort of joining. It's the ideal mate, one's other half, and it is believed that it can only be found when one finds themselves first.
I have been researching various theories in metaphysics as long as I can remember, and this theory has stayed close to me for years. It's not necessarily a romantic love story only, but more so of a deep spiritual union between two souls.

Adam and Eve were believed to be twin souls, but in my narrative, it's not one of a Prelapsarian universe but rather of a happy ending (or beginning rather).
LOST IN A GLASS OF WATER; Cinzia Sarto; digi; TRT: 2.06
A disjointed view in need of a compass. An attempt to walk holding a magnifying lens - an instrument to clean the eye while offering the most precious and simple of all gifts. The irony of the title mirrors the elusiveness of losing oneself. This is the first step of a walking series called roving with a glass of water.


Read more...

This video is part of a series called "roving with a glass of water", a documentation of my walking filmed in Kerala, in Rome and at Coney Island's beach in New York, three different moments where I was facing the sea and filming who was there.

The irony of the title mirrors the elusiveness of losing oneself in a handful of drops or in a glass that can contain an entire sea, leaving us with the question of how we perceive our self and what surrounds us.
The images were made at the time in which my eyes were filled with confusion, I felt lost and decided to place a glass on my empty hands while walking.

I was interested in filtering the act of taking images with a gesture that was also an invitation toward others I was encountering along the journey. I needed a gift to offer and chose water as the element most present inside my body, a liquid that could also move with each one of my steps.

Water became a magnifying lens, an instrument to clean the eye, a compass and an offering, it contained both the possibility of drowning and floating while the rhythm of the falling drop underlined the necessary following step of the journey.

If my eyes could see through the water they might learn to follow its vagabond nature, its capacity of constant transformation from the single drop on the bird's wing to the vapor density of fog, to the liquid embracing us.

I was surprised when I filmed the person on the ground motionless, I noticed how all of our movements were affected by his immobility, its body became a question, a mirror of our presence or absence in the moment, I brought the glass of water close to the body holding the memory of walking as a calling.

I was always interested in counterculture, mostly on those individuals that have been able to find some personal freedom within their life, as a consequence I resent all that promotes the role of individuals as consumers of life. This has made me a stranger in my own country and a traveller for years. Video is the tool I use to unravel my own expectation while walking.
---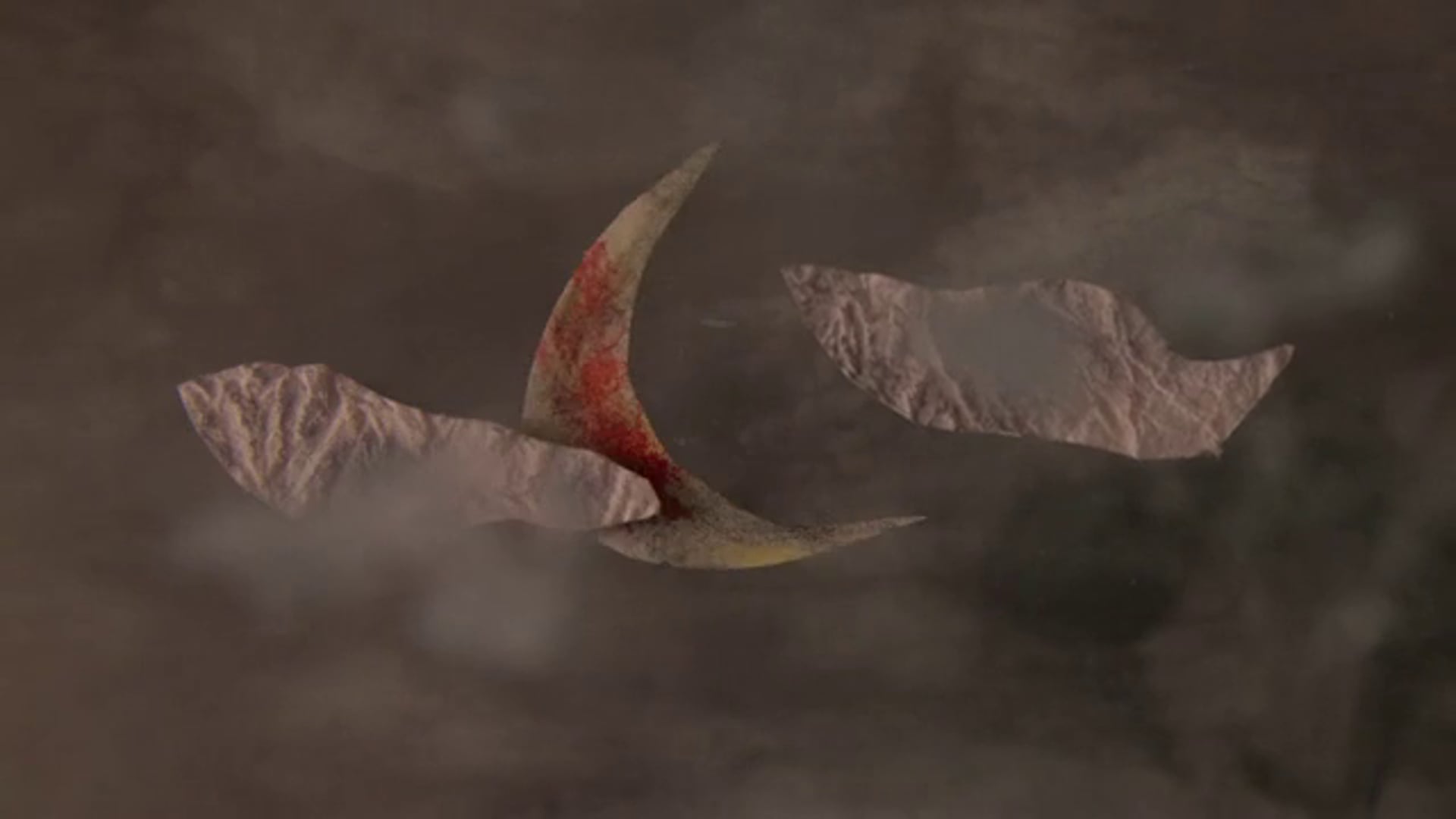 ---
Thank you for supporting the filmmakers who are presented in this show!