PSYCHEDELIC STATES (show 6) – TRT: 24.14
E-x-p-a-n-d consciousness.
---
UPBEAT NOTHINGNESS; Leila Jarman; TRT: 3.14
In Berlin, five people "stuck" and restricted by routine, breakout, upon finding their truest selves thru color and forms of movement.

Read more...

How did this film come about? and what is it about

We were interested in studying the human form through movement and dance. The idea was to get a group of dancers together, choreograph a simple piece and film it in a very static manner, and not have the dancers know anything about the concept of the video. We went to Berlin and collaborated with friends and artists I am inspired by. They were simply given emotional references based on the nature of the choreography. The choreographer was given no information about the concept of the video aside from a few conceptual/emotional prompts. It was her job to convey those emotions through the choreography. The finished product conveys a kind of message that five people are "stuck" and restricted by a routine until they are overcome by their truest senses of self in the form of color and movement.

Why did you chose to edit these shots?

I think the answer to this is as simple as the shots we chose were the only ones that worked based on the concept for the video. Our options were limited due to the fact that most of the video is shot on a tripod, so we used that to our advantage in mirroring images and subjects.

How did you chose this music– did the dancers know about it?

The dancers did not know about the music. This was also part of the concept of the video: that everyone was slightly out of the loop. The choreographer was given a concept, the dancers were given choreography without knowing the concept, and the composer was only shown the dance. In this way, the music is a direct byproduct of the dance, and a distant ancestor to the original video concept.

What do you think of "digital filters and their contribution to the new filmmaking?

The introduction of digital tools is contributing to the development of an emergent new genre of filmmaking. For our purposes, the use of these digital tools and aesthetics were about examining human form in ways that were previously impossible with just a camera and a subject.

Upbeat Nothingness was a experiment in process, rather than a true collaboration between all of its players. The director only had control of a concept, the choreographer took this concept and gave a set of instructions to the dancers, the composer was shown the raw dance footage, and the editors worked to the score.
SNAKE FOOT; Lili White; TRT: 5.18
One day, I discovered an "s" on my toenail...

Read more...

One day, in real-life, I found an "S" had appeared on my toe.

I "performed" in Nature as a meditation on this event, remembering that the Egyptians have a sign that combines a snake and foot, which I don't know the meaning of.

SNAKE-FOOT was built using a kind of dreamy stream of consciousness approach to the edit. Its techniques and framed shots are intended to convey the "dream-body". Dreams act as a transforming flight that allows one to see more deeply into that which matters most — knowledge gained thru them can transform our life…

I used many taped experiences of snakes that I accumulated over the years: one crossing a road, another asleep on top of snake petro-glyphs in Alabama, one caged as a "pet", a rattlesnake in the zoo. One was found on a staircase, which led to the idea of a descent, as the snake does when it retires into its lair; and so a "Persephone descent into Underworld" world occurs, as the Underworld is the place that is also considered the realm of dreams, ruled by Neptune that also rules over illusion, the cinema, film itself, and water, that is included here in scenes where the sleeping person rolls over.

Add trees to the mix, to deliver another mythic image and the eyes on moth's wings look back from this other space inhabited thru this viewing…
WAS BEING MOVED?; Ye Mimi; TRT: 11.00
About the state of moving and being moved: When people build a boat to carry themselves; when people start to walk backwards; when gods lead people to step on the Earth… Is it possible that everyone becomes someone else's "far-afar" in the continuous movement?

Read more...

Can you tell us about the source material of the Mazu pilgrimage and the boat builder?

The Baishatun Mazu pilgrimage is a very unique Taoist activity in Taiwan. The pilgrimage, itself, is a miracle. The sculpture of the Baishatun Mazu leads the pilgrims alone their route by shaking her sedan in the direction she wants to lead the pilgrimage. The pilgrimage usually lasts for eight to ten days. Thousands of people follow Mazu more than 400 kilometers from northern Taiwan to the middle of the country and back again.

The handmade wooden sailboat was made by two Chicago artists: James Barry and Hui-Min Tsen. The boat is part of their art project "The Mt. Baldy Expedition," which is an interdisciplinary project that explores the act of commonplace exploration and the experience of wonder in daily life. After filming their boat, I went to Lanyu, a small island off the coast of Taiwan, to film another handmade wooden boat. The Lanyu boat is a ten man traditional boat made by the Taiwan native peoples for catching flying fish during the spring fishing season. I try to create a conversation between the sailboat and fishing boat.

The main connection between these source materials is the concept of "move" and "being moved." Are people moving by themselves or moved by the Mazu? Do the boat builders move the boats, or do the boats move them? There may be many other connections, but I would like to leave those to the audience.

Can you tell us about calling your film "poetry film"?

I was first introduced to the term "poetry film" through watching a screening of the Zebra Poetry Film Festival. As a poet, I knew right away that's the kind of video work I would like to make. In 2007, I went to the School of the Art Institute of Chicago to study filmmaking and to continue experimenting with the relationship between poetry and film. Becoming a filmmaker doesn't prevent me from being a poet. Instead, my poems grow with my films simultaneously. It's like directing a group of electric jellyfish sneaking into a tilt tower to rub together.

Please tell us about your creative process.

Making a poetry film is like weaving. I always write something first before I go out to collect images, but everything is still unclear and improvised when I am shooting. At the editing stage, I like to collage the images. Afterwards, I write something based on the images and then collage the images more. In other words, my images and text feed each other instead of eating each other. They could become a sunny day, a fever, a humming song, or a glass of Bloody Mary, which, I never know.
ROSE SELAVEE; Coleen Fitzgibbon; TRT: 5.00
A rose is a rose is a rose in saturated color.

Read more...

The experimental film Rose is a meditation on Shiva in the aniconic garden surrounded by animals. The garden reflected in 1080HD.

You've seen a lot of changes in the experimental film world, what do you think is important as a filmmaker.

There were less filmmakers when I started in the early 70's as the technical aspects of handling film and getting an image was more difficult; digital technology has opened up moving and still images internationally to people who would never before had the resources or education to make films. The revolution in digital cameras, phone and editing is comparable to Renaissance painting when access to pigments became internationally available. More people making films not only increases information and art but makes for better art as collective thought increases exponentially.

What advice would you give someone coming up?

Follow your interest/intuition; learn everything you can; see everything you can. Look objectively at how to fund your projects and who to work with. Always inform yourself about new technologies or have enough money to hire someone who does.

How did this film come about?

Rose and Rose SeLavee were born out of curiosity – I wanted to see what the iPhone could do and I like gardens and sitar music.

How do you compare making an optically printed film like some of your other work, versus a straightforward shot like in Rose?

Rose took a week to make, FM/TRCS (1974, 16mm optically printed A/B rolls) took 6 months. There was no digital in the early seventies. I was not technically inclined when I first used the optical printer, but it was a good challenge and has always stayed in my mind while learning new equipment to make movies.

How did you chose the soundtrack?

I like the meditative quality of Indian music and have been thinking about awareness. I don't think I had heard sitar music until the Beatles. I still practice transcendental meditation.

Is there anything else you want to say about your creative process with film or video?

Movies or moving images are related to how we form thoughts visually that are too complex for written or verbal language. If you could define everything by speech or writing there wouldn't be a need for images; what's the Chinese proverb, "one picture is worth a thousand words?"

Movies often combine both language and images into a story. A story is a series of images in time that create the idea that we have arrived at an understanding; often it's a mirage of comprehension. Kuleshov who influenced Eisenstein said that the placement of single images cause the brain to invent a narrative.

Experimental films and docs are usually financial black holes so after making films from the early seventies to the early eighties as an artist/filmmaker I decided to try working commercially in tv/films first as a camera woman and then as a producer, as those jobs were available then. This gave me a chance to work collectively instead of working alone and to increase my technical knowledge; also I was able to use the money to fund my own films.
---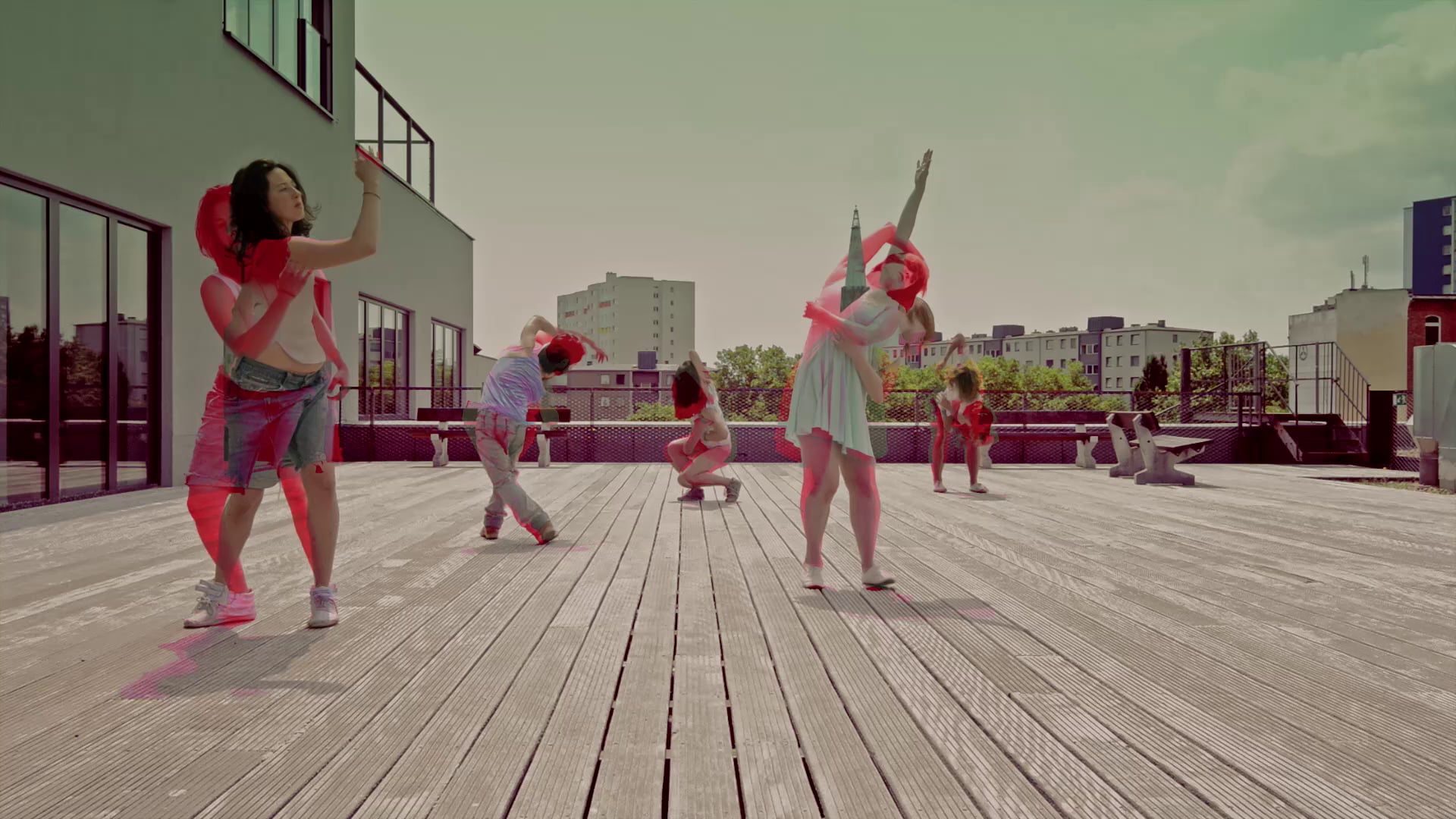 ---
Thank you for supporting the filmmakers who are presented in this show!